Founded on its present site in 1969 to house, restore and run trolleybuses when they were fast disappearing from Britain's streets, The Trolleybus Museum at Sandtoft has grown from a handful of vehicles and now has over 50 – the largest collection of preserved trolleybuses in the world.
However public transport doesn't exist in isolation. In addition to describing the rise and fall of the British trolleybus we attempt to set its story in the social history of its era, explaining the factors that shaped events. And, having purchased additional land in recent years, we now have ambitious plans to expand our facilities and exhibitions with work starting this winter – see below.
LASTEST NEWS FROM THE TROLLEYBUS MUSEUM
DEVELOPMENT AT THE TROLLEYBUS MUSEUM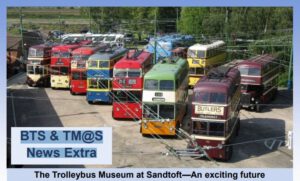 We are happy to share our plans for expansion on the Trolleybus Museum at Sandtoft site! Click on the link above for more information!
NOTTS & DERBY 353 LEAVES SANDTOFT – TEMPORARILY!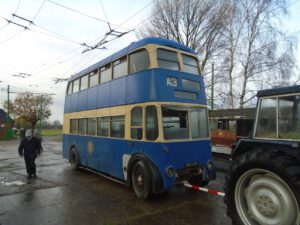 Our resident Notts & Derby trolleybus number 353 (seen attached) is seen being prepared to be moved for storage offsite to make valuable space in our Depot.
353 arrived at Sandtoft in 2016 after being offered to the Museum by the West of England Transport Centre where it had been stored since 2011. First purchased for preservation when it came out of service in 1967, 353 has had several homes in that time, spending most of its life in the south of England.